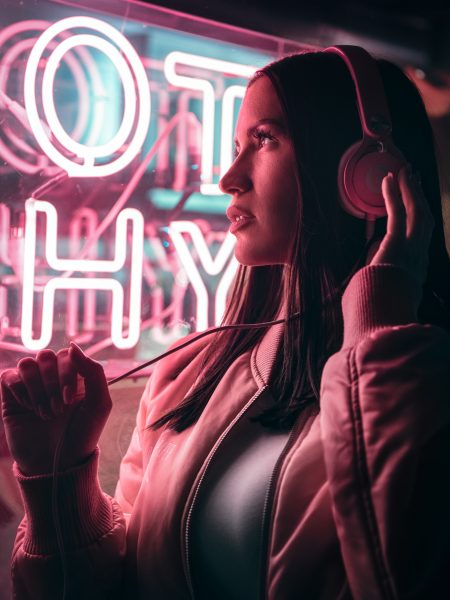 It was in 2003 that she discovered Electronic Dance Music for the first time. She then became fond of different musical styles. Passionate about electronic events, she participates in several parties and festivals in Switzerland, but also in Europe, especially in Holland.
For a few years her desire to learn how to mix preoccupied her mind. And it is this passion for electronic music and her meeting with various artists that strengthened this idea.
In 2012, she takes mixing lessons at the Zoo (MAD Club). Then a year later, she realized her dream: to mix in a club, notably at the MAD in Lausanne.
In 2014, she mixes in the biggest clubs in French-speaking Switzerland: MAD(VD), Tsunami(VS), Globull(FR), Bypass(GE) and also in several festivals such as Montreux Sundance(VD), Lake Parade(GE), Miami White(JU), Festibar(JU).
During the same year, she started producing music by taking lessons at the VR-SCHOOL in Lausanne. First, she familiarizes herself with Ableton Live by creating several dynamic bootlegs.
Having a taste for challenges and a thirst for learning, she decided to learn how to mix on vinyl and it was Othello who helped her to perfect her technique and also to increase her musical culture.
Defender of the "GIRL POWER" movement, she decided to create a 100% female podcast, selecting the best tracks, with at least one female artist each time (DJ, prod, singer, etc.). Her podcasts are called "The GIRLS POWER show". Find them all here, as well as her other mixes and bootlegs on the Podcast page.